CPT - Ultra Mobile EPOS
Overview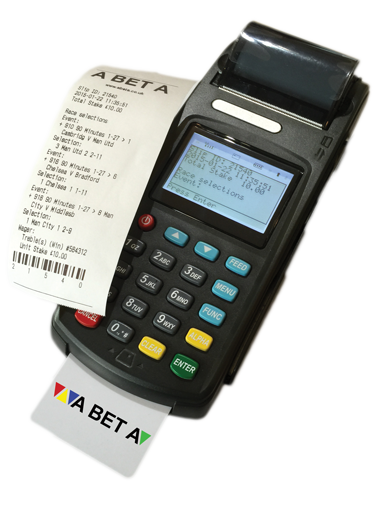 While the operation of chip-and-pin devices is now ubiquitous in restaurants, bars and shops, their use in betting outlets has never evolved. A new device pioneered by specialist supplier A Bet A is now set to revolutionise the way wagers are taken across many territories including Africa and Latin America.
Despite large estates in a number of countries, operators on the continent have struggled to offer a consistent service to their customers. Outside urban areas, hampered by poor internet coverage, and electrical supply, they have often resorted to taking bets on mobile phones. Usually in the hands of agents working for a number of different companies, these phones are neither single use devices nor blessed with good battery lives.
A Bet A's chip-and-pin terminals, which have integrated printers, last for over 40 hours and work on the GPRS network, which enjoys good coverage in even the most remote regions. Shop staff and Agents can enter bets using pre-prepared event codes or by browsing an index of the latest sports events. These events, and the markets surrounding them, are downloaded into the device beforehand, allowing for reliable and swift transactions and a printed receipt for the end user.
As Business Development Manager Jason Hardman explains, the innovation could well be transformative for a number of operators. He said: "Chip-and-pin terminals will be very useful for businesses across Africa, for example, because they are a perfect marriage of new technology and existing infrastructure. They're inexpensive and reliable and don't require either a good internet connection or a regular electricity supply. In fact, they are a great opportunity for operators to maximise revenues, wherever customers want to have a bet."
As well as fixed odds sports markets, the chip-and-pin terminals can be tailored to lottery, pools and totalizator betting products, and have great scope to process selections not only on betting premises, but in bars, clubs and restaurants, and kiosks, where regulation allows.
Please email debbie.hardman@abeta.co.uk to organise a demo.
Betty Support
Knowledge Base
User Guides